By Maegan Carrasquillo —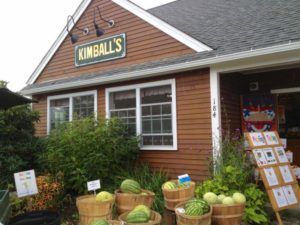 As a resident of Pepperell I've noticed there are many of us that use wells for our water. After such a dry summer I began monitoring things like lengths of showers and how we'd go about washing our dishes. It really made me wonder how a business that depends on water fared after the drought we had. To get answers to this question I met with Carl Hills of Kimball Fruit Farm.

I expected certain answers but when I asked him how his crops handled the drought he merely smiled. He explained that many farmers used to rely on state and federally funded programs for situations like these, but these days there wasn't as much help. He thankfully had installed underground pipe irrigation for many of the crops he has and therefore didn't need to rely on
only rainwater or overhead irrigation. His crops were plentiful for most of his open season from berries to apples.
Though he didn't give me the responses I imagined, he did notice a difference in some areas at the farm. If you've ever been apple picking there you know you can go down a hill on the right hand side and walk past a pond. I've taken my daughter many times and it's always a place where she stops. This year we were left confused. Where did it go? Did we miss it? I mentioned this to Carl and he said, "I never thought I'd see the bottom of that pond, this summer I did. We even had some workers pulling out tires from the '50's at the bottom of it." He's worked here for decades and never seen the pond without water. What could this mean?
According to Carl it doesn't mean stress and anxiety. He explained that we actually had a similar lack of water the prior summer but that we didn't feel it nearly as bad because we had a much heavier snowfall the previous winter. Without the melting snow there was far less groundwater this time around. After speaking with him I've learned that we as a community can learn to adapt to these kinds of changes if they are expected, we are informed, and we get a little creative.
Newsletter Home Page
Conservation Corner
Profile In Giving
Photo Exhibit at Lawrence Library
NCT Trail Guide
Trail Maintenance