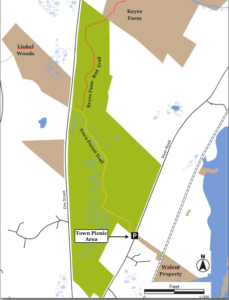 Paul Peavey

In 1925, the Town Forest Committee (a Committee that was formed in response to the Board of Selectmen's 1922 request to establish a Town Forest) purchased over 100 acres (90 acres on River Road and  additional acreage off of Jewett Street) for $500. The Commonwealth of Massachusetts provided 5,000 white pine seedlings to any community who established a Town Forest of 100 acres or more. The white pine seedlings were planted by local groups including scouts and school children.

The Town Forest is managed by the Town Forest Committee.

Last summer work was under way at the Forest to create a fire road, which was identified as a "need" in the Ten-year Forest Management Plan for this protected area. Conveniently, the fire road can be used as a trail and we made sure it connected with the trail that connects with Keyes Farm. We also made a short connection to the Town Forest picnic area during the construction of the fire road.

Late last fall NCT, working in collaboration with the Town Forest Committee, created a new trail in the Forest. The GOLD trail starts at the picnic tables on River Rd. and extends over to Elm St. It also links up with the RED trail which leads into Keyes Farm Conservation area. One of the primary reasons for this new trail was that it opens many options to hikers on four adjacent conservation areas.

In August of 2016, NCT sponsored a successful hike that started at the Elm St. entrance of Keyes Farm, linked with the the Town Forest trails, and ended on the Nashua River on the West Side Trail. The GOLD trail also connects to the Linkel Woods parcel on Elm St. which can be used for moderate hikes. Enjoy!