By Paula Terrasi —-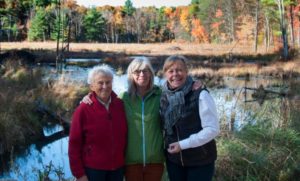 Celebrating 24 Acres of newly protected land off Jewett Street: "Sue's Ramble"
"I fell in love with Pepperell because of its forests and trails, its pristine rivers and streams. That's the reason I moved here 22 years ago. I've had extraordinary experiences in these wild places! That's the reason I stay. Now, I can and I want to help preserve and protect these places for the well-being of all."
• —Susan Edwards, an NCT member who recently became a major donor.
NCT has been working with people like Susan for 47 years to conserve open space. In this case, the open space being protected is 24-acres of ecologically sensitive habitat on Jewett Street. NCT worked with the Massachusetts Division of Fisheries and Wildlife, Trout Unlimited, the Nashua River Watershed Association, and Susan to protect the property, which was at risk of being developed.
The Jewett Street property is now protected, and will be accessible for enjoyment by all. We expect to establish a walking trail and a map of the property mid-2017.
Why was it important that we protect this property? On it is a body of water which is the headwaters of Gulf Brook. The headwaters move through Blood Brook, into Heald Pond, then on to Gulf Brook, providing clean water for the Bemis Road municipal well site, Pepperell's public water supply. Also, the laurel-clad uplands and adjoining pond are habitat for rare blandings turtles. The property is adjacent to the trailhead of the Jeff Smith Trail, a 7.5-mile trail that extends into New Hampshire. In short, this project provides aquifer protection, habitat protection, and a serene place for all to enjoy.
Susan's donation of funds to help finance the purchase of the land was split between NCT and the Marion Stoddart Greenway Fund at the Nashua River Watershed Association.
"NCT and their partners were wonderful to work with," recounted Susan. "They made the whole process very easy for me."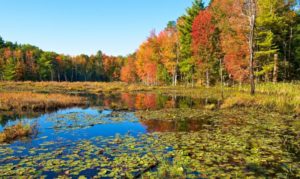 As you travel down dirt Jewett Street and pass the pond, we invite you to consider how you can make a difference. Whether NCT is purchasing a property or partnering with another land protection organization, we all can make a difference.
Newsletter Home Page
Conservation Corner
Profile In Giving
Photo Exhibit at Lawrence Library
NCT Trail Guide
Trail Maintenance
Local Farm Weathers Drought