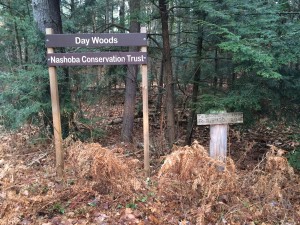 Pepperell Trail Guide – Day Woods
Acreage:
33 acres
Trail Mileage: .6 miles
Difficulty Level: Easy
Natural Features: beaverpond, wet meadows, riparian habitats, mixed forest.
Wildlife: Herons and other wetland birds, Hawks, wood warblers, turtles, amphibians, fox, coyote.

The Day Woods property is located where Stewart Brook merges with Gulf Brook and flows into a beaver pond and extensive shrub swamp. The brook continues through an old sawmill dam and across the Town of Pepperell's Water Division lands. The riparian and forest habitats of the property are great places to view wildlife such as gray fox, white-tailed deer, beaver, mink, marsh and songbirds. This area of wetlands and pine forest is a great area to see wood warblers such as palm, pine, and chestnut-sided warblers. Great blue herons hunt for fish around the freshwater marshes.
Land Protection History: The Day Parcel was a gift from Ted and Mimi Day in 1973. They lived on Lawrence Street and were interested in helping conserve the Gulf Brook watershed.
Trail Description: This is one of the prettiest sections of the Jeff Smith Trail which winds through the Day property for .6 miles through a mixed forest of hemlock, white pine, oaks and birches along Gulf Brook. The trail passes near the site of the old Henry William Shattuck mill (dam on beaver pond) and heads north through Pepperell Water Division land. At .6 miles you reach the Lake Potanipo Rail Trail in Brookline, NH and then can head east toward the Bemis Road Conservation Area.
Directions: From Pepperell Town Hall, follow Park St. north about 1 mile.
Bear left onto Oak Hill St and follow for 1.3 miles. Turn right onto Lawrence St. and continue another 1.3 miles. Look for the wooden sign for Day Woods Nashoba Conservation Trust on the right.
Park off the road near the sign.


Friends Way
Keyes Farm Property
Linkel Woods
The Stromsted Property

Town of Pepperell's Stewart Brook – Gallery