By Paul Peavey —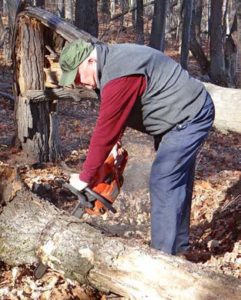 NCT is proud to announce our new 'Adopt a Trail' program! A major challenge for any land trust organization is to properly maintain trail systems to ensure a safe and visually appealing environment for those using the trails. For the group of people currently performing this function it is always a challenge to respond to maintenance issues in a timely manner. The primary focus of the 'Adopt a Trail' is to address that aspect of our maintenance program.
There are several levels of skill required for maintaining our trail systems; from replacing bridges, marking and clearing new or existing trails, cutting trees that have fallen across a trail, refreshing trail markings, or clearing fallen deadwood. If you are interested in volunteering please:
e-mail Newsletter@nashobatrust.org a request to NCT to participate in the program.
• Choose a trail or parcel that is convenient for you to visit and maintain on a regular basis
• Indicate the tasks you are willing to undertake
An NCT board member will contact you to discuss the program and agree on the tasks to be performed. It would be ideal if we could have at least 1 volunteer for each of our (7) parcels.
Please include the name of the parcel you wish to help maintain from the list below:
* Mount Lebanon Woods
* Library Trail
* Nashua River Trail
* Friends Way
* Day Woods
* Linkel Woods
* Seminatore Woods (open 2017)
We'd love to hear from you. Help us continuously improve our trails!
Volunteer
Newsletter Home Page
Conservation Corner
Profile In Giving
Photo Exhibit at Lawrence Library
NCT Trail Guide
Trail Maintenance
Local Farm Weathers Drought