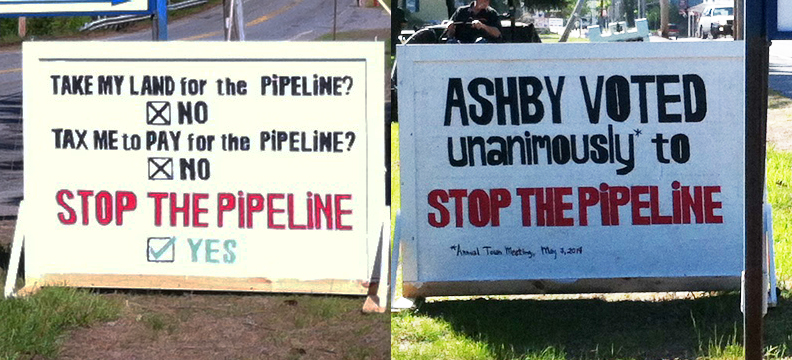 Spread  the word about this proposed project – download a 'FAQ' sheet here —Proposed Tennessee Gas Pipeline through Pepperell – FAQ
Read the talking points from NCT's Presentation: Tennessee Gas Pipeline Overview June 2014
For additional material, Visit Town/Activist Resource Materials at nofrackedgasinmass.org
Sign the Petition –  Add your name to the more than 10,000 others who oppose the pipeline project.
Put up a sign
"Stop the Pipeline" signs are available at Century 21, 111 Main Street, Pepperell.
Century 21 is open M-F, 9am to 5pm.
Suggested donation is $10 per sign.
Thank you!
Over 30 towns across Massachusetts and New Hampshire have passed these as a form of protest against this project.
Send a Letter to Our State Officials
Impacted Pepperell homeowners Vince and Denene Premus have spearheaded a Homeowners' Campaign. These letters are for anyone who has concerns about the pipeline and wants to have their voices heard to sign and send.
Please download, sign (name and address if possible) and send!

Rep. David Paul Linsky Letter : Letter to State Representative David P. Linsky, Chair of the House Committee on Post, Audit, and Oversight in support of a request made by my State Representative Sheila Harrington of the First Middlesex District for Request for Public Hearings on NESCOE and Tennessee Gas Pipeline Proposal
Sheila Harrington Letter: Letter to State Representative Sheila Harrington
Gordon Van_Welie_Letter:  Letter to Gordon Van Welie, President and CEO, ISO New England urging ISO-New England to "Embrace a plan of action that balances demand with environmental impact, health, and human safety…"
---
We've been asked by some residents for a sample letter that could be sent to voice their concerns; here is one that you can use as is or modify.
Impacted Resident Letter
Send a letter, email or stop by the Town Hall and let them know if you are concerned about this pipeline. Concerns in writing are key for the public record.

Contact our Selectmen: selectmen@town.pepperell.ma.us

Stephen C. Themelis
SThemelis@town.pepperell.ma.us
Michael Green
MGreen@town.pepperell.ma.us
Michelle R. Gallagher
MGallagher@town.pepperell.ma.us
MASSACHUSETTS:
Governor Deval Patrick:
Email Gov. Patrick here
Massachusetts State House
Office of the Governor
Room 105
Boston, MA 02133
Phone: 617.725.4005
888.870.7770 (in state)
Fax: 617.727.9725
TTY: 617.727.3666
Ann Berwick, Chair of the Department of Public Utilities:
One South Station
Boston, MA 02110
Telephone: (617) 305-3500
Fax: (617) 345-9101
US Senators:
Senator Ed Markey:
Email Senator Markey
218 Russell Senate Office Building Washington DC 20510
(202) 224-2742
Senator Elizabeth Warren:
Email Senator Warren
317 Hart Senate Office Building Washington DC 20510
(202) 224-4543
Congresswoman Niki Tsongas:
Email Niki Tsongas
Lowell Office:

4th Floor
State Senator:
Eileen Donoghue:
Phone: 617-722-1630
Fax: 617-722-1001
Email: Eileen.Donoghue@masenate.gov

State Representative:
Sheila Harrington:
Phone: 617-722-2305
Fax: 617-626-0199
Email: Sheila.Harrington@mahouse.gov
Additional Links: http://www.house.gov/representatives/find/
NEW HAMPSHIRE:

Governor Maggie Hassan:
Email Gov. Hassan here:
Office of the Governor
State House
107 North Main Street
Concord, NH 03301
(603)271-2121
(603)271-7640 (fax)
US Senators:
Senator Jeanne Shaheen:
Email Senator Shaheen
Nashua Office:
60 Main Street
Nashua, NH
03060 Ph: (603) 883-0196
Senator Kelly Ayotte:
Email Senator Ayotte
Nashua Office:
144 Main St.
Nashua, NH 03060
Phone: 603-622-7979
Fax: 603-622-0422
State Senator:
Peggy Gilmour:
State House
Room 105-A
107 North Main Street
Concord, NH 03301
(603) 271-4151
Email: peggy.gilmour@leg.state.nh.us