Founded in 1969 in an effort to protect valuable open space in Pepperell, Nashoba Conservation Trust is now steward to over 41 parcels of land comprising nearly 400 acres.
Efforts to protect open space and retain the rural character of Pepperell continue to be of great importance to those who live in or have connections to Pepperell. We are fortunate to have the support of so many land protection organizations to work with us to in our efforts to achieve these goals but we also need your support.
With your financial support, we can continue these efforts. Any donation, large or small, is sincerely appreciated and will help us to continue our efforts to preserve land in perpetuity for the benefit of current and future generations. Please visit our Donate page for more information.
Thank you in advance for your most generous help. We're counting on you!

---
Please note: information regarding the NED pipeline project is under the 'Events -News' tab

---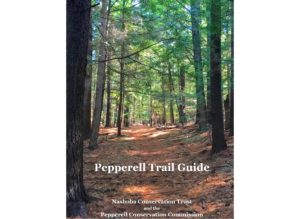 Nashoba Conservation Trust and the Pepperell Conservation Commission are pleased to announce the publication of a new Pepperell Trail Guide.  The Guide covers fifteen permanently protected conservation properties covering over 1200 acres. The Guide features almost 20 miles of trails through some of Pepperell's most striking natural areas such as the Nashua River, the Nissitissit River, Heald Pond and Gulf Brook Ravine.
In addition to trail descriptions, scaled maps and directions to each property, the Guide also tells the story of how each property was conserved.  Each conservation history is unique, but one theme runs consistently throughout:  the importance of protecting open space.  It's where we walk, bike, trail-ride, fish, hunt, swim and snowshoe.  It's where we go to connect with the natural world and with ourselves.  It brings trout fisherman, birders and equestrians from all over New England to Pepperell, and connects us to neighboring towns in Massachusetts and New Hampshire.  It brings Pepperell together as a community.
This Guide is your invitation to explore some of Pepperell's best, permanently
protected open spaces. We hope it will inspire you to lace up your shoes and hit the
trail!
Download the 
Pepperell Trail Guide
.
Now available for download on iBooks –
Pepperell Trail Guide on iBooks
---